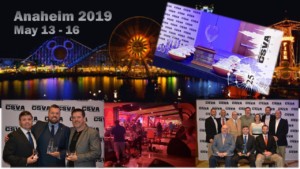 On May 13th-16th, 2019, the Collegiate Sports Video Association (CSVA) held its 25th annual conference at the Hyatt Regency Orange County in Anaheim, California. 148 CSVA members and 35 vendor companies attended this year's event.
First-year President Darby Dunnagan (Northwestern) and Vice President Errol Seaver (North Carolina State) greeted members and vendors during General Session 1. They discussed the week's schedule, vendor card participation, and encouraged members to network and get to know other members and vendors. This year's conference moved from the traditional 4-day schedule to a condensed 3-day schedule.
Monday started with Cameras 101 sessions and roundtables dealing with job hiring for both students and full-time video personnel. The day finished up with editing workflow sessions led by XOS and DVSport. Members learned about annual software updates and how to better their workflow for this upcoming season.
Tuesday morning began with General Session 2. Vice President Errol Seaver (North Carolina State) went over the day's schedule and discussed the vendor card. Following general announcements, vendors were introduced to members. All silver sponsors were named, followed by gold sponsors each having two minutes to address members. Our platinum sponsor, DVSport, then had the floor for 15 minutes and our title sponsor, XOS Digital, welcomed members and addressed the crowd for 20 minutes.
Tuesday and Wednesday mornings were filled with roundtable sessions and members visiting the vendor hall. CSVA was grateful to have both Microsoft and Apple lead mobile technology discussions at this year's event. This year's conference also dedicated more options for our post-production members.. One of the highest-attended roundtable sessions this year was the post-production seminar led by former SAVVY winners Colin Ludema (Wisconsin) and Parker Dilley (Iowa).
Members and vendors gathered at BowlMor Tuesday night for the CSVA Social event sponsored by the organization. It was a great time for members to network with others in the business over food, video games and bowling.
Various different conferences held meetings on Wednesday morning to discuss particular rules/updates within each conference. CSVA provided a coffee break in the morning while the vendor hall stayed open.
Wednesday evening was the final night of this year's event. Members gathered for the annual awards banquet. Christian Fiero of Kentucky Football won the Bob Matey National Video Coordinator of the Year award, as voted on by members of CSVA. Bob McCartney of the NFL's Pittsburgh Steelers, Mike Gleeson of Stanford Football and Joel Krause of Coaches' Video were inducted into the Sports Film and Video Hall of Fame. The three members of this year's class have had major impacts in the sports video profession.
Also announced on Wednesday evening were the winners of the SAVVY videos. Appalachian State Football won in both the Highlight and Short Social categories. Kentucky Football won in the Motivational category while Penn State Football won for best Recruiting video. These four videos were then up for the Ultimate SAVVY, where Blake Newsock and his staff from Penn State took the top honors.
One of the best parts of this year's conference was the Fireside Chat held Tuesday evening. Many of our members who were around during the start of our organization told stories and discussed what our profession was like in the early years. Mike Gleeson (Stanford), Ken Norris (UCLA), Scott Eilert (Kansas State), Chad Bunn (BYU) and Rick Bagby (Clemson) led this discussion. Overall, it is incredible to see where our organization has come in the last 25 years and where it is progressing to in the future.
Next year's CSVA conference will be held at the Hyatt Regency in downtown Minneapolis, Minnesota in May of 2020.