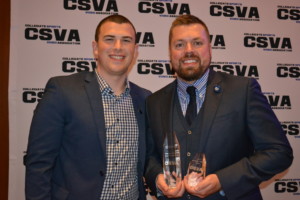 The Collegiate Sports Video Association named Pennsylvania State Football's Video "The Process VI" the Ultimate SAVVY at this year's annual video conference in Anaheim, California.  Earlier in the night, Blake Newsock and crew took home top honors for the video in the Recruiting Category.
The video was one of four finalists for the Ultimate SAVVY, but was one of over 80 total videos entered into this year's contests.
Annually, the Collegiate Sports Video Association presents awards in various categories including Motivational, Recruiting and Highlight. New this year was a Short Social category to include videos mainly used on social media. The winners of each category are announced at the annual awards ceremony, then voted on to take home the Ultimate SAVVY for the year.
Newsock was assisted by Nick Miller, Matt Stephens, Shane Robinson, Brett Michaud and Justin Donnelly with shooting footage for the video. Clint Yoder assisted as audio tech for the video and Michael Hazel assisted with script writing.
This was Penn State's second SAVVY honor and first-ever Ultimate SAVVY win. The team had a video win the Highlight category in 2017.